Trademark Protection at World-Class Level
World Trademark Review 1000 awarded Anna Kholobudovskaya the mark of world's leading trademark professional.
WTR 1000 again ranks INTELLECT-S's Anna Kholobudovskaya among the world's top recognized trademark protection experts.
World Trademark Review 1000 features INTELLECT-S's Anna Kholobudovskaya for the second year running. The world's best known and so far unique handbook of trade mark protection practice, WTR 1000 appeared for the first time in 2011 and has been published annually as the fullest and most authoritative global list of trademark protection professionals. Based on broad worldwide surveys, the lists are divided into Firms and Individuals and, each, further, into Enforcement & Litigation and Registration & Strategy.
Anna, a certified patent attorney admitted to practice in Russia, leads INTELLECT-S's International Trademark Registration, filing for the registration of scores of marks in Russia, internationally under the Madrid system, and in foreign countries; and provides advice on filing, registration and protection of trademarks in Europe, Asia, Africa, and North and South America. The 2018 edition of WTR 1000 features Anna again on the list of leading trademark registration professionals, noting that "nothing escapes her gimlet eye".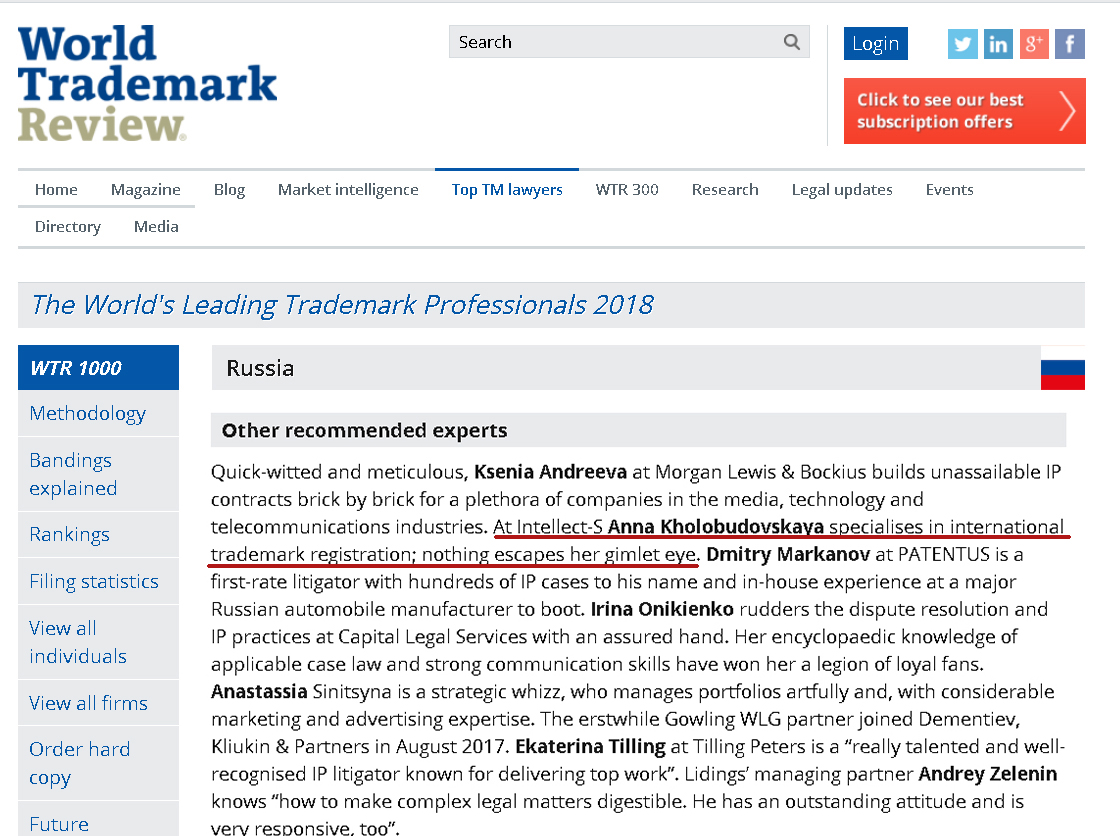 Anna Kholobudovskaya: "I am definitely glad — glad for myself, because the quote from client feedback precisely reflects my attitude to registration filings as a mere tool for more significant achievements which define the priorities and objectives at the filing stage. But I am glad even more for all of us, because, for me, it's a collective result and achievement of the entire INTELLECT-S team, thanks to whom I have strength and desire to set the bar for myself ever higher and clear each new height".