INTELLECT 2.0
We renamed ourselves. It is not a mere rebranding — it's a new form for a new content.

Our new, shorter name symbolizes the infinity of information as a media in which intellect is metaphysically a guide, just as we are a guide in the world of law — we, the INTELLECT team, with our experience, our culture, our friendliness, and our openness to the world.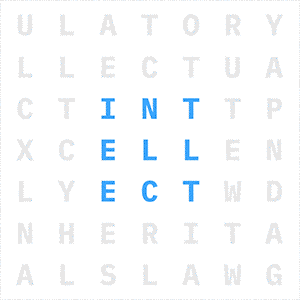 INTELLECT-S was an established brand in the Russian market of legal services. We can now rightfully call ourselves a leading Russian law firm on a cutting edge of progress in the legal market. The evidence is overwhelmingly compelling: international and cross-border engagements; recognitions and top ranking by authoritative international law firm guides; the status of the nation's biggest firm by the number of offices, headcount, and financials.
The firm's reputation remains very high in day-to-day operation due to the team's top quality professional work, high level of corporate culture, impeccable record of successes, and irreproachable business and professional ethics. The firm's image embodying rising success called for a new name and new style, familiar — if not household — as "INTELLECT-S" and its previous logo were to the team, the clients and the peers. The new content called for a new form. That was the task we set for the developers of the firm's new verbal and visual identity.
INTELLECT has been going international since very early in its history, if not from its foundation. As part of its international focus, its specialty International Desk handles trans-border and multi-jurisdictional matters for both Russian and international clients, at home and abroad. The firm has just joined one of the most prestigious law firm networks, Legalink. A conveniently shortened and Latinized name has made INTELLECT readable internationally and, hopefully, will help us become recognizable worldwide, no matter what language their future clients will be speaking.