We Are in Saint-Petersburg!
INTELLECT heads into its twentieth year with opening a new office in St. Petersburg and introducing a new practice.
With its new office in St. Petersburg — the firm's seventh — INTELLECT has become Russia's largest by the number of locations.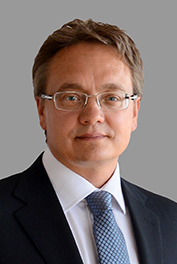 Dmitry Makarov
Former partner
At the end of February INTELLECT partners unanimously voted to confer partnership on Dmitry Makarov, formerly managing partner of Makarov, Karacheva & Partners in St. Petersburg.
Dmitry Makarov, who has been 25 years in the profession, is a graduate of St. Petersburg State Law School. Having started as an in-house attorney for an accounting firm, he later worked in a large group of construction companies, making his way from counsel to the head of the legal department and director for legal affairs. Admitted to the bar in 2006 and becoming an advocate, Dmitry started his own private practice, co-founding Makarov, Karacheva & Partners, specializing in insurance, business law, and bankruptcy matters. Dmitry has a solid record of successful big insurance cases, alternately representing and advising insurers and beneficiaries.
With Dmitry Makarov and a group of his associates joining us the firm is opening an insurance practice which Dmitry will lead.
Moreover, this expansion of our team and opening of the new practice marks another major achievement for the firm—a real cherry on top: a new office, and in St. Petersburg, of all places.
A seventh location, now in Russia's second most significant city and business hub, has long been on the cards of the firm with offices in Russia's six largest cities: Moscow, Yekaterinburg, Nizhny Novgorod, Novosibirsk, Perm, and Chelyabinsk.
Evgeny Shestakov: ""St. Petersburg is quite something of a location to have an office in — even with such extensive geographic coverage as ours. The decision was not the matter of one day; the idea of gaining presence there has been around for years. We have been waiting all this time for someone whom we would be willing to take a chance with, so that INTELLECT-S's success in St. Petersburg would be reputationally beneficial for the firm and for our new partner.""