Pravo.ru-300: INTELLECT Takes 11 out of 11
INTELLECT ranked in all the eleven practice areas in which Pravo.ru-300 annually ranks top Russian law firms.
INTELLECT surpassed its own previous record and now is proudly shining on three nationwide lists Pravo.ru-300.
The authoritative Russian legal Internet portal Pravo.ru ranked the nation's law firms for the eleventh time in 2020, announcing the results on Lawyer Day December 3. For INTELLECT, this eleventh anniversary was marked by winning eleven prestigious ranks in eleven practice areas submitted for ranking — our another badge of honor as a renowned full-service firm providing top-quality representation and advice. Eleven out of eleven for the eleventh time — the magic of numbers never ends: in summer of 2020, Best Lawyers in Russia recommended INTELLECT's 20 lawyers in 20 practice areas.
INTELLECT's 2020 Pravo.ru highlights:
Our TMT & Digital Economy practice repeated its brilliant 2019 debuting performance ending on two national lists: TMT, and Pravo.ru's two-year-old Digital Economy list where we share, since the list's establishment last year, the first-group leading position with the international giants Linklaters and Debevoise & Plimpton and Russia's biggest firm Egorov Puginsky Afanasiev and Partners.
Our Intellectual Property practice has retained its strong long-standing positions on the top of both national and regional lists — in the first group of the leaders on the regional level.
The firm's criminal practice made its successful debut on Pravo.ru in 2020 after acquiring a few big advocacy names and reorganizing into an affiliate standalone specialist office with six attorneys at law. It has achieved an impressive ranking among the old-timers in the second group of leaders on the regional list.
Our Employment and Immigration practice won honorable mentions among leaders ranked in the first group on the list of top regional firms.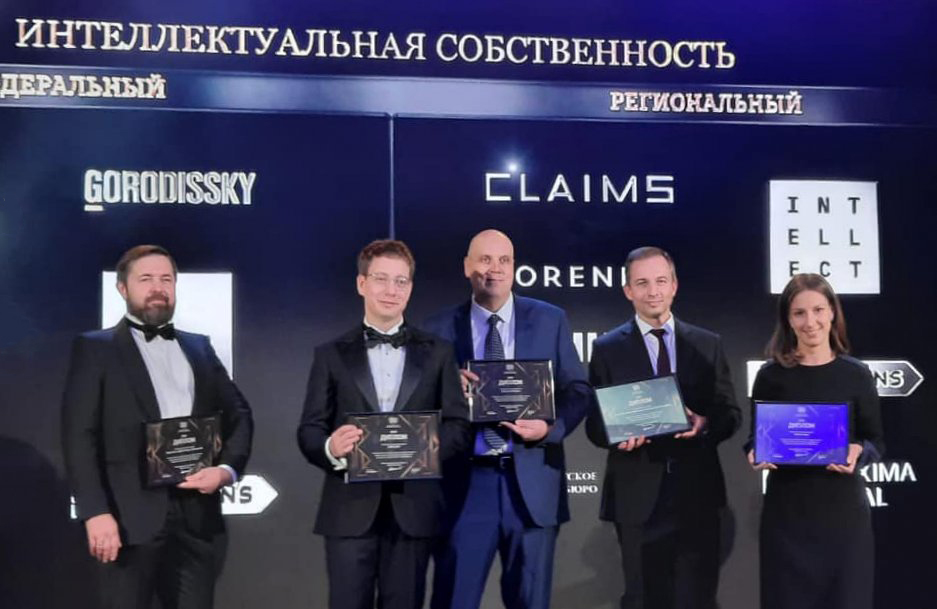 Our full list scoreboard by practice:
Bankruptcy and Bankruptcy Litigation — Regional
Business Litigation — Regional
Corporate and M&A — Regional
Criminal — Regional
Digital Economy — National
General Jurisdiction Litigation — Regional
Intellectual Property and IP Litigation — National
Intellectual Property and IP Litigation — Regional
Employment and Immigration and E&I Litigation — Regional
Land, Commercial Real Estate and Construction Development — Regional
TMT — National
INTELLECT's 2020 financials and stats showed a considerable improvement compared to the previous year, taking the firm a few notches higher on Pravo.ru-300 scale: we are among Russia's —
top 15 firms by the number of lawyers
top 40 firms by revenue
top 25 firms by revenue earned per lawyer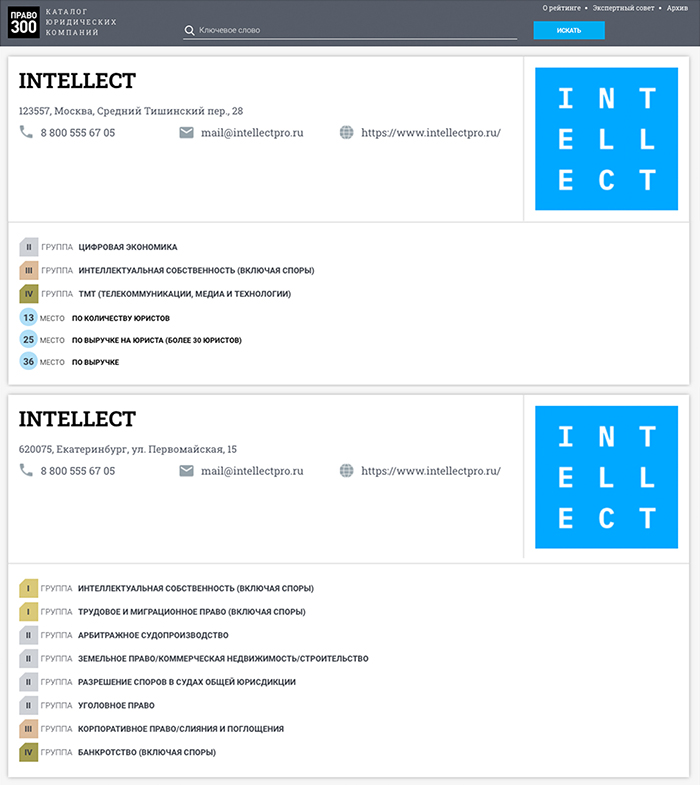 Pravo.ru held its gala award ceremony for top-ranking firms in the Lotte Hotel Moscow on December 4, 2020, with live streaming online for those who were unable to attend the event personally.