Pravo.ru-300: INTELLECT Makes It to Top Ten
INTELLECT has been included in 10 industry rankings of the tenth "Law.ru-300" rating, including 4 federal rankings.
In 2019, INTELLECT broke its own record of presence in the top lists of the main legal rating of the country.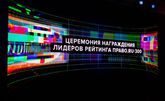 Рейтинг «Право.ru-300»: церемония награждения
5 декабря 2019 года в Москве, в отеле The Ritz-Carlton, прошла церемония награждения лидеров X рейтинга юридических фирм «Право.ru-300».
A jubilee rating of Russian law firms, "Pravo.ru-300", was published. It is festive threefold for INTELLECT, with three new peaks conquered. In the first place, we hit the bull's eye, with the firm noted in 10 industry rankings for the first time. Thus, a new record has been set for presence in the leading national rating. In the second place, the number of the federal industry ratings in which INTELLECT is present has doubled for the first time. And, since it makes sense to compete only with yourself, such victories stand high.
In the third place, INTELLECT has been recommended for the first time in the "Digital Economy" top list. This industry ranking has only appeared in the rating this year, and only in its federal part, and the firm has immediately ranked among the best.
10 top lists of "Pravo.ru-300" in 2019 which have INTELLECT included:
Arbitration Proceedings (Regional Rating)
Arbitration Proceedings, Mid Market (Federal Rating)
Bankruptcy (Regional Rating)
Intellectual Property (Federal Rating)
Intellectual Property (Regional Rating)
Commercial Real Estate / Construction (Regional Rating)
Corporate law / Mergers and Acquisitions (Regional Rating)
Resolution of Disputes in Courts of General Jurisdiction (Regional Rating)
ТМТ (Federal Rating)
Digital Economy (Federal Rating)
Among other things, INTELLECT has been recognized as one of the leading law firms at the federal level in the rankings for financial and statistical indicators and has been included:
in the TOP 20 by the number of lawyers;
in the TOP 50 by proceeds; and
in the TOP 30 by proceeds per lawyer.