Subscribe
INTELLECT-S is the one of Russia's only two law firms which publish corporate magazines. The firm's law magazine, INTELLECT-PRESS, targets a readership primarily among the firm's business clients, although it is widely read — and highly appreciated — in the profession, and much liked by the firm's members.
The firm, acting as the magazine's founder and publisher, as well as its complete editorial office, has published INTELLECT-PRESS since 2005; and officially registered it as a mass medium in 2009 when the circulation of its one or two annual issues reached 5,000 copies. The editorial board consists of the firm's managing partner Evgeny Shestakov, senior partner Roman Rechkin, partner Alexander Latyev. The magazine, edited by the firm's Director for Development Anastasia Makhneva, carries editorials of university lawreview nature, practical advice for business and business lawyers, news of the profession and news of the firm. The contributors are the firm's leading specialists.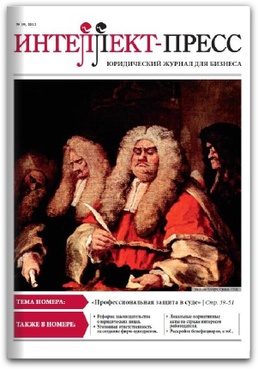 Headline

«Qualified legal defence»
14 judicial and administrative cases of INTELLECT-S lawyers.
Practice areas of INTELLECT-S.
Changes digest of legislation and judicial practice on intellectual property in 2011-2012.
Legal rules of a naming.
Criminal liability for creation of shell companies.
Regulation the activities of state companies: information abot beneficiaries.
Local normative acts protect interests of employer.
Payment for utility services by owners of offices and the shops located in rental apartments.
Federal law: "About child protection from information harming their health and development".
Review of legislation on legal entities.
Download