Svetlana
Veresova
Partner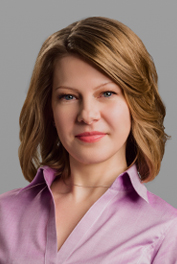 Established in 2000, INTELLECT provides holistic IP support on budget and on time to an array of brand owners.
─ World Trademark Review 1000 2019
Practice areas
Registration of trademarks, service marks, appellations of origin of goods.
Representation in court, in Rospatent, in the Chamber for Patent Disputes on issues related to the legal protection of trademarks and service marks.
Registration of computer software programs and databases. Judicial protection of the rights of software authors and manufacturers.
International trademark registration under the Madrid system or by direct application.
Development of license agreements, agreements for alienation of exclusive rights to a trademark or service mark, and their registration with Rospatent.
Education
2012 – "Legal Business in USA. Law Firm Management": Training for Partners and Top Executives of Law Firms. Lincoln Law School of San Jose, San Jose State University, California, USA.
2005 – Training program of candidates for Patent administrator in Russian Agency for patents and trademarks.
2000-2003 – Ural State Law Academy.
1995-2000 – Ural State Teacher's University, Faculty of special education.
Able to assist domestic clients on their patent registration and prosecution needs.
 

Professional achievements
Svetlana has been personally recommended by:
Best Lawyers – Technology Law, 2019-2020.
World Trademark Review 1000 – Prosecution and Strategy, 2019.
Chambers Europe  – Intellectual Property: Patent Filing – Russia, 2016.
Legal 500 EMEA – in area of intellectual property, 2014.
Pravo.ru-300 – Intellectual Property, 2019.
The Registration of Trademarks Practice led by Svetlana is notes as one of Russia's best by:
Chambers Europe, Intellectual Property: Filing, 2016-2019.
World Trademark Review 1000, Prosecution and Strategy, 2019.
Professional activity
Svetlana has been practicing in INTELLECT since 2002 filing 50-100 trademark applications annually.
She started her career in 2002 as a paralegal at INTELLECT. After graduating from the Ural State Academy of Law, she became a lawyer at the firm.
After obtaining the status of a Patent Attorney of the Russian Federation (certificate number 1035 in the State Register), she became a lead lawyer and the head of INTELLECT's Intellectual Property Protection Department.
She was accepted as a partner of INTELLECT Law Firm for her professional achievements, namely: for the successful representation of clients' interests in court, in Rospatent, in the Chamber for Patent Disputes, as well as for her outstanding personal contribution to the development of the company.
 

INTELLECT has "a very strong multi-office IP practice". Svetlana Veresova manages the trade mark registration side of the practice.
Relevant publications