Training in the United States
03 november 2014
The annual training courses for the heads of law firms in the post-Soviet countries under Law Firm Management program.
Law firm leaders' training in California
November 3-12, 2014
San Francisco & San Jose, California, USA
INTELLECTS-S is responsible for the organization of Law Firm Management program.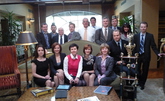 Ежегодная стажировка в США - 2012
Программа повышения квалификации для руководителей юридических фирм «Юридический бизнес в США. Управление юридической фирмой», 2012 год.
The annual training courses for the heads of law firms in the post-Soviet countries under Law Firm Management program is the INTELLECT-S's standalone initiative (within its business school), operated in conjunction with the Lincoln Law School of San Jose, California, and law firms based in the Silicon Valley. Launched in 2009 (the 2014 training course will be the fifth), the program was developed by the firm's Director for Development Anastasia Makhneva and Evgeny Shestakov.
The firm is responsible for the organization of the program on the Russian end, including its promotion, composition of the trainee groups, travel arrangements, and collaboration with the hosts in California.
In 2013, a group of Russian trainees visited the offices of fifteen law firms in San Jose, San Francisco, Santa Clara and Palo Alto, ranging in the number of attorneys, practices and offices from global firms employing over 1,000 fee earners in several countries (such as Wilson Sonsini Goodrich & Rosati, and Greenberg Traurig), to midsized, employing up to 70 attorneys on the average (such as Berliner Cohen and Hopkins & Carley), small family firms and two- or three-man partnerships. We also visited several courts of various levels, law schools and universities (in particular, Stanford).
The educational part of the program comprises two units. One unit consists of lectures read by partners of law firms, business advisors and California university instructors. The other unit includes visits to law firms' offices and on-site master classes, round table discussions with the firms' managing partners, and acquaintance with the day to day work of the firms.
The training covers:
legal forms of organizations of law firms in the United States;

 

partnerships; 

 

law firm organization charts and principles of management; 

 

promotion systems and HR management in law firms; 

 

legal service pricing and billing; 

 

compensation policies, partner equity and profit sharing; 

quality control and client case management;

 

service marketing, promotion and public relations in a law firm; 

professional ethics, principles and practice; 

IT in the law profession and legal business; 

law office management; 

legal services market trends; and 

practice and techniq

ues of solving clients' issues in various areas of law.
Training in the United States was initially conceived for INTELLECT-S personnel only. But then we realized that, first, it would require considerable financial investment and, second, we thought it would interest our colleagues in the profession. We therefore chose the concept of an exclusive premium opportunity with a limited offer. Each training course is open to several partners and best associates, and we "sell" five to ten extra "tickets". We derive no financial profit from this program: the prices our colleagues pay are equal to the participation costs.
In 2009, 2010, 2012 and 2013 forty-nine people (including fourteen INTELLECT-S's members) went through these three training courses, including law firm managing partners and in-house counsel from ten Russian and Ukrainian cities: Moscow, St. Petersburg, Yekaterinburg, Kiev, Nizhny Novgorod, Tver, Tyumen, Perm, Chelyabinsk and Krasnoyarsk.
Further details of INTELLECT-S's training courses in California are available at the firm's website at www.lawfirmmanagement.ru. The website was created to accumulate and summarize law firm management knowledge and experience gained from our training courses in California as program participants' reports analysis, and any useful law firm management publications, as well as to promote our California training courses. Our website has a Facebook mirror with a community of over 970 users.
The results of the training courses in 2012 and 2013 included the development and implementation of standards and approaches close to those employed by the legal industry in the West, specifically, the introduction of a promotion system, improved mentorship principles and a system of partnership, which were creatively adapted from what we have seen and learned in the Californian law firms.