Maxim
Labzin
Senior partner, Head of Moscow office
Head of INTELLECT\\\\\\\\\\\\\\\\\\\\\\\\\\\\\\\'s Moscow office, Practice Group Leader (IP), Licensed Patent Attorney
e-mail:
m.labzin@intellectmail.ru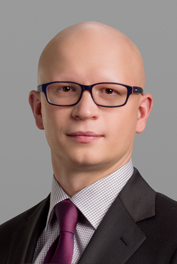 Maxim Labzin is 'a great speaker in court hearings' and has 'a strong background in IP litigation'.
Practice areas
Disputes related to intellectual property items (arbitration courts, courts of general jurisdiction, Chamber for Patent Disputes, antimonopoly service).
Any other areas of work in the field of intellectual property (contract work, registration of rights and patenting, legal due diligence, etc.).
Education
2013 – "Legal Business in USA. Law Firm Management": Training for Partners and Top Executives of Law Firms. Lincoln Law School of San Jose, San Jose State University, California, USA.
In 2002 Maxim graduated with distinction Moscow State Social University, Law Faculty.

INTELLECT has "a very strong multi-office IP practice". Maxim Labzin heads the IP litigation team.
Professional achievements
Maxim has been personally recommended by:
Best Lawyers  – Intellectual Property Law, 2015-2021. Litigation, 2019-2021, Information Technology Law, 2020-2021. 

 

In 2021 became Lawyer of the Year in the IP practice.

Legal 500 EMEA – in the intellectual property sector, 2014, 2015, 2017, 2019, and ТМТ, 2016, 2017, 2019, 2021.
Chambers Europe – Intellectual Property: Patent Filing, 2016-2017, 2021.
World Trademark Review 

–

Enforcement and Litigation, 2020-2022.
Pravo.ru-300 (Russia) – Intellectual Property, 2019, 2020-2021.
Kommersant (Russia) 

– Сompetition law, 2022.
The IP Practice led by Maxim is notes as one of Russia's best by:
Chambers Europe, Intellectual Property: Patent Filing, 2016-2021.
Legal 500 EMEA, Intellectual Property, 2016-2019.
Pravo.ru-300 (Russia), Intellectual Property, 2011-2021.
Kommersant (Russia), 

Intellectual Property, 2021-2022.
Professional activity
Maxim joined INTELLECT in 2011 from his own practice which he had led as managing partner of Labzin & Partners, listed in the top ten intellectual property firms of Russia in 2010 (according to nationwide rating Pravo.ru).
Maxim Labzin's most notable courtroom accomplishments include:
In a number of lawsuits, he defended the rights of a major Russian font developer and for the first time provided support and ensured consolidation in the judicial practice of the approach that the manufacturing of any products (books, signs, packages, etc.) with the execution of inscriptions and texts on them by using the relevant font is an infringement of copyrights, and the products themselves are counterfeit.
Successful defense of SHOESSTAR, an organizer of international exhibitions, in a series of legal and administrative cases, as a result of which the opponent's trademark, "SHOESSTAR", was annulled, the claim filed against the client for violation of the right to that trademark was dismissed, and the registration of that trademark was issued in the name of the client.
Successful defense of an INTELLECT client's interests in a series of lawsuits against the owners of domain names that include the client's trademark. Some of those owners did not use those domains, while others placed their websites selling the client's products on them, thereby competing with the official distributors.
Successful challenging in the Court for Intellectual Property Rights Rospatent's delay in considering a patent dispute that is of critical importance to an INTELLECT client. As a result, Rospatent had to reduce the time required to handle such cases. The case was of great public interest and came to prominence through media coverage. The patent dispute itself was resolved in favor of the INTELLECT client, with the patent of its direct competitor for a utility model revoked.
Successful defense of a client's interests in a domain dispute. There was a website discovered in the Internet whose domain differed by only one letter from the domain of an INTELLECT client; moreover, the products offered on the competitor's website were said to be analogous to the client's products. In the course of a long trial, it was successfully proven that the client's rights had been violated, with 5 million rubles recovered from the perpetrator. That amount of compensation is the maximum for the Russian court practice in domain disputes.
The biggest case related to the IT rights in the internationally recognized S.T.A.L.K.E.R. videogame brand infringed by a publishing group (AST, Astrel Publishers) which published a namesake book series. The court granted the suit against AST for unlawful publishing.
Protection of manufacturer's interests from its rival – trademark owner. The trademark owner filed dozens of actions across Russia against retailers and the wholesaler of this manufacturer. But the court in Moscow and most of other courts dismissed all the actions filed by trademark owner.
Judicial case related to protection of utility model, that belonged to the biggest producer of plastic pipes and plastic utility products. It was created a new precedent in the protection of patent holders' rights.
The biggest case related to protection of patent holder's interests on manufacture of a unique pharmaceutical from commercial organization.
Successful representation of the owner of the trademark COMEDY Club™ in arbitrazh courts resulting in the award of record damages of over RUB 8 million which was effectively enforced.
Successful representation of a trademark owner in a chain of trials, appeals and cassation reviews in arbitrazh courts in a case where the owner of a confusingly similar trade name had been founded by the prior owner of the trademark.
Successful challenge of a patent in general jurisdiction courts on grounds of misappropriated inventorship.
Able to assist international companies with non-Moscow based patent and intellectual property infringement disputes.
Relevant publications