Maxim
Labzin
Senior partner, Head of Moscow office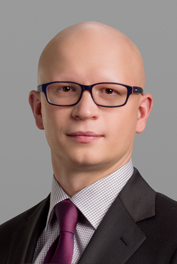 Maxim Labzin is 'a great speaker in court hearings' and has 'a strong background in IP litigation'.
Practice areas
Intellectual property proceedings in general jurisdiction and arbitrazh courts, Chamber for Patent Disputes and before antimonopoly authorities
Copyright and patents
Trademarks and trade designations
Unfair competition
Education
2013 – "Legal Business in USA. Law Firm Management": Training for Partners and Top Executives of Law Firms. Lincoln Law School of San Jose, San Jose State University, California, USA.
In 2002 Maxim graduated with distinction Moscow State Social University, Law Faculty.

INTELLECT has "a very strong multi-office IP practice". Maxim Labzin heads the IP litigation team.
Professional achievements
Maxim has been personally recommended by:
Best Lawyers  – Intellectual Property Law, 2015-2019, Litigation, 2019.
Legal 500 EMEA – in the intellectual property sector, 2014, 2015, 2017, 2019, and ТМТ, 2016, 2017, 2019.
Chambers Europe – Intellectual Property: Patent Filing, 2016-2017.
The IP Litigation Practice led by Maxim is notes as one of Russia's best by:
Legal 500 EMEA, Intellectual Property, 2016-2019.
Pravo 300, Russia, Intellectual Property, 2011-2018.
Professional activity
Maxim joined INTELLECT in 2011 from his own practice which he had led as managing partner of Labzin & Partners, listed in the top ten intellectual property firms of Russia in 2010 (according to nationwide rating Pravo.ru).
Maxim Labzin's most notable courtroom accomplishments include:
successful representation of the owner of the trademark COMEDY Club™ in arbitrazh courts resulting in the award of record damages of over RUB 8 million which was effectively enforced;
successful representation of a trademark owner in a chain of trials, appeals and cassation reviews in arbitrazh courts in a case where the owner of a confusingly similar trade name had been founded by the prior owner of the trademark; and
successful challenge of a patent in general jurisdiction courts on grounds of misappropriated inventorship.
Able to assist international companies with non-Moscow based patent and intellectual property infringement disputes.
Relevant publications