INTELLECT-S Became the Winner of Regatta
INTELLECT-S took part in the VIII international sailing regatta "Banzay brings the world – 2012".
INTELLECT-S took part in the VIII international sailing regatta "Banzay brings the world – 2012".Team of the INTELLECT-S achieved flawless victory and came first.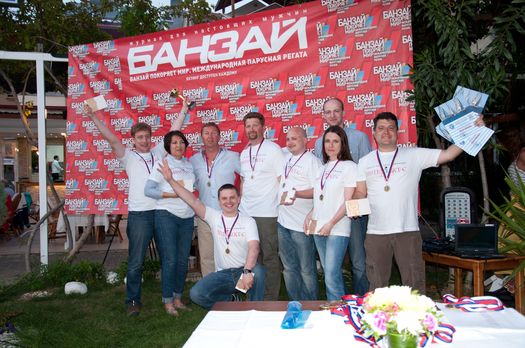 International sailing regatta "Banzay brings the world" in 2012 was the eight time. Competition took place from 28 April to 6 May in the water area of the Mediterranean sea, near Turkey and Greece. The journey had 5 races in two divisions: Gold and Platinum.
In regatta "Banzay brings the world" participated 16 teams, each of which was provided with professional skipper. Skipper of INTELLECT-S was Evgeny Nikiforov, the match race champion of Russia, winner and prizetaker of championships of Russia, silver medalist of the world championship in class of yachts "Micro".
In the first race INTELLECT-S took the first place. By the results of fifth races team of lawyers thee times became the first and two times the third. It was very high rate. Races were different: long (over 20 miles) and short distances. Also there were exhausted races with dead calm. But in spite of everything, thanks to professionalism of skipper and persistence of our team, INTELLECT-S took the first place in division Platinum and became the flawless winner of VIII international sailing regatta "Banzay brings the world-2012".
Members of team have revealed their positive impressions from sailing regatta:
Evgeny Shestakov, managing partner of INTELLECT-S: 
Not for the first time participating in regattas, including international, I has mastered basics of two yacht specialties: bowman an
d heldsmen, but the absolute winning is for the first time ever. Winning is a glorious feeling! In Platinum group there were representatives of Russian and Ukraine skipper's school: winners and prizetakers of the World and Europe championships , the master of sports, leaders of the international rating of ISAF, among skippers we had even an Olympic champion - to take any place in this company could be honorable for any team. But we won. Evgeny Nikiforov was our skipper and he led us to the victory. Thanks to him we learned that the good team in the sea, as a good lawyer should have several essentials treats of character: desire to win, concentration and discipline, the strong team spirit, competitiveness and hazart. I congratulate everybody with success!
Anastasia Makhneva, chief development of INTELLECT-S, head of practice: 
The decision of partners of INTELLECT-S to go in for yachting sports and to participate in regatta was coordinated. It is command training, corporate vocation, and also the pleasant and useful communication with colleagues and businessmen from across Russia. We perfectly spent the time. Each time when we go out of our office on corporate events, I realize that it is pleasant to me to spend time with my colleagues. Thanks to a wind, the sea, professional skipper Evgeny Nikiforov and all my team! It was my good fortune to be the member of it!