Elena
Soplina
(Rytova)
Senior Associate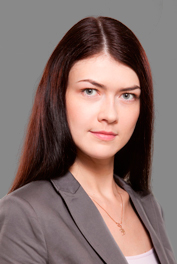 Practice areas
Civil and arbitrazh litigation.
Business and general civil law.
Corporate law.
Competition.
Education
2007 - Ural State Law Academy
Professional activity
Elena joined INTELLECT-S in 2007 straight out of university. In 2009 she became a senior associate.
She joined INTELLECT immediately after graduating from a law school in 2007. In 2009, she became a leading lawyer. Elena specializes in corporate law, commercial disputes, and general civil law practice.
One of Elena's most notable cases was protecting the interests of INTELLECT's client in a dispute with an official Volkswagen dealer. In the course of the legal proceedings, she managed to recover 6.6 million rubles for a defective vehicle, the initial cost of which was about 1.4 million rubles.
Relevant publications