INTELLECT-S Prominent & Successful — Chambers
Chambers Europe 2014 Guide named INTELLECT-S "most prominent and successful"
Some regional firms have been successful enough to expand into several cities, the most prominent being INTELLECT-S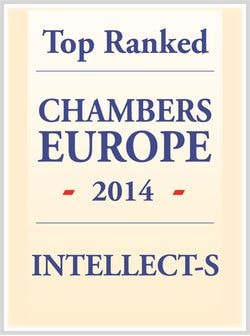 On April 24, 2014 — two weeks after the publication of The Legal 500 EMEA 2014 (see the news) — Chambers & Partners released their latest findings in their annual Chambers Europe 2014 guide. The UK-based publishers of the world-famous guides to the legal profession cover 52 jurisdictions of Europe, name outstanding lawyers and firms on the basis of competition polls and client recommendations.
The 2014 edition of Chambers Europe features a new section, Russian Regions. Its foreword names INTELLECT-S Group the most prominent firm among those headquartered elsewhere than Moscow and St. Petersburg:
Some regional firms have been successful enough to expand into several cities, the most prominent being INTELLECT-S, which now boasts offices in Moscow, Nizhny Novgorod, Novosibirsk and Perm as well as its home city of Ekaterinburg.
The General Business Law rankings in the Russian Regions section cover two alphabetical groups, the first including the most successful according to Chambers, with INTELLECT-S described as

Well known for intellectual property and IT matters, with a remarkable reputation in trade mark registration and enforcement cases. Additionally able to handle broader mandates in tax, real estate and all types of dispute resolution.
INTELLECT-S Managing Partner Evgeny Shestakov merits a special mention as 'an exceptionally gifted lawyer' and expert in the IP and IT fields. Chambers Europe 2014 quotes a client's testimonial: 

He's very savvy and has a good combination of legal knowledge and commercial skills to understand what the client wants to accomplish in the business sense.
Anastasia Makhneva, INTELLECT-S Director for Development:
Chambers Europe 2014 rankings are unique for their new section, Russian Regions. No Western rating agency considered regionals in their reviews of the Russian legal services market ever before. That the British legal researchers have looked outside the metropolitan areas means that Russia's regional market is mature, and they in fact recognized that it is mature enough and there are firms outside Moscow that can provide international quality services.

Read also Legal500 EMEA 2014 Names INTELLECT-S and Its Three Partners among Russia's Leading IP Attorneys