Alexander
Latyev
Partner
Head of Practice Commercial Realty, Energy & Utilities, PhD.
e-mail:
[email protected]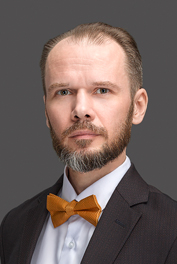 Practice areas
Contract law (delivery, lease, transportation, contractor agreements, agency contracts, etc.).
Protection of ownership rights and other proprietary rights.
Corporate law.
Legal support for bankruptcy.
Legal support for foreign economic activity.
Arbitration disputes in civil cases.
Dispute resolution in arbitration courts and international commercial arbitration.
Education
2012  – "Legal Business in USA. Law Firm Management": Training for Partners and Top Executives of Law Firms. Lincoln Law School of San Jose, California, USA.
2004 – Alexander defended the candidate's dissertation "Law of property in civil rights: concept and features of the legal regime".
2001 – Alexander graduated with distinction Ural State Law Academy.
2000-2001 – he studied of Catholic University, Law Faculty, Nijmegen (Netherlands).
Professional achievements
In 2001 and 2002, an employee of the Research Department of the Ural State Law Academy. Since 2003, he has fully devoted himself to legal practice.
In 2003 to 2007, a legal adviser for one of the corporations; provided legal support for bankruptcy procedures, participated in court disputes and corporate conflicts, ensured registration of legal entities and real estate, carried out contractual work.
In 2007 and 2008, he was a leading legal adviser at the branch of RENOVA-StroyGroup CJSC in Yekaterinburg and RENOVA-StroyGroup-Academic LLC.
Since 2002, Alexander Latyev has been working together with INTELLECT. In 2004, he became the head of the firm's Scientific Council. He is one of the developers of the firm's legal work standards. Since 2009, he has been the Head of INTELLECT's Department of Foreign Economic Activities and International Private Law. In 2016, he was accepted as a partner.
He has participated in major property acquisition projects, implementation of the largest development project in Russia, has extensive experience in litigation over bankruptcy cases, corporate disputes, disputes over real estate rights, invalidity of transactions, challenging the actions of government authorities and many others.
He has extensive experience of representation in courts of various levels, arbitration and general jurisdiction, including the Supreme Arbitration Court of the Russian Federation when considering a case under the supervisory procedure, as well as in arbitration courts, including the International Commercial Arbitration Court at the Chamber of Commerce and Industry of the Russian Federation.
Professional activity
Alexander Latyev is the author of more than four dozens of scientific articles on topical problems of civil law and process published, including abroad, as well as the monograph "The Problem of Rights in Rem in Civil Law" and the training manual "The Legal Regime of Immovable Property Under the Laws of Foreign Countries". Alexander Latyev's articles and scientific works have been included in the list of recommended literature in the textbook by V.A. Belov "Civil law. Volume 3. Special Part. Absolute Civil Law Forms".
He developed draft laws on amendments to the Civil Code in terms of good-faith acquisition of ownership rights, to bankruptcy laws in terms of the introduction of the "consumer bankruptcy" mechanism, and to the Urban Planning Code of the Russian Federation in terms of changing the procedure for the examination of project documentation.
Since 2001, he has been lecturing and conducting practical classes for the discipline "Legal Regulation of Foreign Economic Activity", and since 2013 he has also been conducting classes for his author's course "Civil and Legal Ways of Protecting Rights in Rem" at the Ural State Law University.
He is the author and facilitator of seminars on the current issues of the civil law and the arbitration procedure laws. He regularly takes part in the discussion of the civil law problems at round tables and academic conferences.
Relevant publications