Dmitry
Zagainov
Partner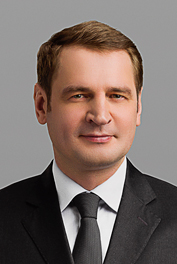 Practice areas
General civil law and business law.
Civil and arbitrazh litigation.

Intellectual property protection.


Protection of honour, dignity and business reputation.

Criminal law and criminal proceeding.

Defense of private business operators in criminal proceedings on charges of fraud and corruption (including tax, finance, intellectual property and other white-collar crime).


Representation and defense of private businesses in administrative proceedings; contesting government and municipal administrative actions (brought by consumer rights and building supervisors, fire safety and labor inspectors, and other regulators and overseeing authorities).
Education
Professional achievements
Dmitry has been personally recommended by international rating Best Lawyers in three categories: Litigation, Criminal Defense in 2017-2019 and Civil Rights Law in 2019.
Professional activity
Successful defense in 2007 of a sole trader who, acting as a contracted independent agent, exercised his right of lien on his consignor's cash proceeds and was wrongfully charged with 17 counts of fraudulent conversion, appropriation and embezzlement on the wrong assumption that he had been the consignor's employee and was under the duty to remit the proceeds to the owner of the goods he had sold. The conviction and sentence did not stand on appeal in cassation, the case was returned for reinvestigation which was terminated as the statute of limitation expired.
Successful defense and termination of proceedings against a builder charged in 2010 with illegal entrepreneurship under a license which had expired by the end of his contract. The charges had been brought by the builder's customer after the law reintroduced criminal liability for unlicensed construction business when the builder's license was not duly renewed. The defense demonstrated the deterioration of the defendant's position by operation of the law which re-criminalized unlicensed construction — a circumstance precluding prosecution — so conclusively that both the court and the prosecution accepted the argument.
Successful defense of the mayor of a city district charged with defamatory impairment of dignity on five counts in 2012, when the defense proved that the five allegedly defamatory publications on the mayor's behalf contained no libel and exposed true facts.
Successful representation, on a pro bono basis, of the family of a child with a genetic disorder, entitled to a larger municipal apartment, in an action against the city authorities alleging the family had no such entitlement. As a result, the family moved to an new apartment 2.5 times larger than their previous two-room home.
A series of successful mediations referred by the Mediation Center of the Ural State Law Academy and courts of law, all ending in the parties' voluntary compliance with the settlements.
A series of successful negotiations in 2014 of the terms of recovery of an accumulated supplier's credit (in the context of the defendant's refusal to abide by the court decision and orders) that led to an agreement of novation executed and voluntarily performed by the parties, which made enforcement unnecessary.
Successful representation of a photographer in a protracted copyright suit against a municipal company refusing to pay fees due to the author, which ended, after several years of litigation, in an unusually large, for Russian copyright cases, compensation exceeding one million rubles.
Academic activity
Dmitry Zagainov teaches law and is an active practicing business coach.
Relevant publications