Arkady
Bereshchuk
Counsel emeritus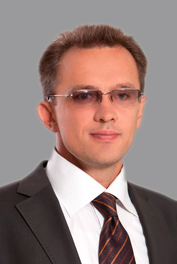 Practice area
s
Civil law relations.
Entrepreneurial law.
Debt recovery.
Registration of trademarks.
Judicial disputes.
Education
Professional activity
Arkady began his legal career in 1996 as a lawyer in the "INYURUSLUGI" firm which is specializing on rendering of services in the field of the international private law and foreign economic activity. The field of his competences included the tariff legislation, arbitration proceedings, disputes with custom authorities. In 7 years of working in firm, he successfully disputed many decisions of customs authorities about customs cost of the goods.
In 1998 Arkady created the global project "the Virtual Club of Lawyers (Yurclub)" which now connected more than 18 900 lawyers from 47 countries of the world. In 2003 on the basis of professional Internet community was founded the Yurklub Non-profit partnership. Branches of "Yurklub" are working in many cities of Russia.
During 2004-2006 he was engaged in private practice, rendering legal services to the enterprises and individuals.
In 2006 Arkady headed office of INTELLECT-S in Perm and became the partner. Under the direction of Arkady Bereshchuk INTELLECT-S entered in TOP-10 consulting firms of Perm (according to a rating of 2008). In 2013 Arkady moved to the counsel emeritus position.
Relevant publications