Saodat
Manucharyan
Chief Financial Officer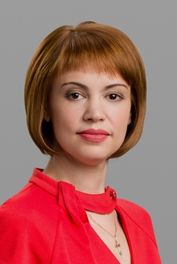 Education
2013 – "Legal Business in USA. Law Firm Management": Training for Partners and Top Executives of Law Firms. Lincoln Law School of San Jose, California, USA.
2010 – Program of professional retraining "Financial management-5", business school "Higher Economic School" of the Ural Department of Russian Academy of Science.
In 1999

Saodat received higher economic education. Specialization "Accounting and finances".
Professional activity
Saodat joined INTELLECT as chief accountant in 2004 and eventually became the firm's Chief Financial Officer.
Relevant publications