INTELLECT-S in the Rating "Pravo.Ru -300"
INTELLECT-S entered into number of the best Russian law firms , and took 1st place in the list Top-50 by Amount of Lawyers / Regions.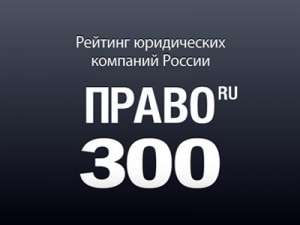 On December 19, 2011 the portal of "Pravo.Ru" and "Vedomosti" newspaper published the second annual rating of law firms "Pravo.Ru-300". The official auditor of a rating was the Ernst &Young company.
In comparison with last year's research of law firms, the present rating serious changed, it became more clear. This time analysts of "Pravo.Ru" used another principle of rating: instead of the universal rating, which made from sets of criteria, there were two top lists on statistics: by revenue and by amount of lawyers. INTELLECT-S in 2011 confirmed the top rank in Russian Law business. It took 14th place in Top - 50 by Revenue and 1st place in the list Top-50 by Amount of Lawyers among regional companies.
Find the comprehensive results here: https://www.intellectpro.ru/out.php?url=www.legalstudies.ru/publications/surveys/pravo-ru-300-2011.htm
For the first time INTELLECT-S is included in the all-Russian branch rating - the list of the best Russian law firms in the field of protection of intellectual property.
Innovation of this year is rating of reputations. Here INTELLECT-S achieved unprecedented result, it took the 13th place among giants of the law industry and led many leaders among Russian law business ("Yust", "Gorodissky and partners", "Barshchevsky and partners"etc.), and international (Clifford Chance, Allen & Overy, Debevoise & Plimpton).