We Are in Chelyabinsk, Hire New IT Attorney
HR rules supreme: INTELLECT-S expands its office network in the Southern Urals and recruits a new professional for its Media & IT practice.
We are proud to announce that INTELLECT-S has recruited two outstanding legal professionals, each with long years of experience in his respective area: Roman Taradanov in Chelyabinsk where the firm is establishing its permanent presence, and Mikhail Khokholkov in Yekaterinburg.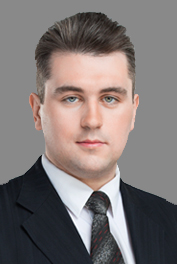 Roman Taradanov
Former counsel
Roman Taradanov has nine years of experience of court representation as in-house counsel and professional firm member specializing in business law, land law and bankruptcies.
Roman is also an active legal writer ranking among the top five authors on Zakon.Ru, the leading Russian portal of legal bloggers.
With Roman's joining INTELLECT-S, the firm establishes its permanent presence in Chelyabinsk, a South Ural city with a population over one million and a budget doubled over the past ten years, underlying the steady growth of private investment in fixed assets. This makes us certain that our new practice will be no less successful than elsewhere.
Roman Tardanov, Of Counsel: "The legal services market in Chelyabinsk and its region is, in a sense, anomalous. Although this is Russia's seventh biggest city by population and the Russian Federation's fourteenth most productive member by GRP, where, without reservation, top class teams of highly qualified lawyers are based, no big firm operating on a federal scale from an office in Moscow or another large city is in fact represented here. This is despite the fact that demand for competent legal services is great not only within the region, but also at an inter-regional level. INTELLECT-S, in my view, is a player capable to rectify this odd situation. I, for my part, intend to exercise all necessary efforts to make it happen as soon as possible".
Contact INTELLECT-S office in Chelyabinsk at: 43 ul. Vorovskogo or at tel.: +7 351 202 1340.
Evgeny Kovalev, Managing Partner at Kovalev, Ryazantsev & Partners, Advocates, in Chelyabinsk: "We congratulate our colleagues at INTELLECT-S on opening their office in Chelyabinsk. First of all, we are glad that our region merits it as a prospective place for expanding professional presence. We are happy to see in KR&P's home market a worthy team that will give an impetus to the development of legal services market in the Southern Urals".
Mikhail Khokholkov, joining the firm's Media & IT as Senior Associate Practice, is a professional with seventeen years of versatile legal experience. His last seven years of practice were dedicated to IT, media, and advertising law. In particular, he proved in court the validity of the creative commons licenses under Russian law three years before relevant amendments were made to the Russian Civil Code. Mikhail advised the Public Chamber of the first Sverdlovsk Region's Legislature on legal matters and is now a member of the advertising expert council of the Federal Antimonopoly Service's regional directorate.
Mikhail is also an active legal writer and author of many professional articles posted in his personal blog.
Mikhail Khokholkov, Senior Associate: "What happens when you load information into a database? The system analyzes it, integrates it with info it already has, and systematizes. When a user searches a response to his query in the database, the system, operating the uploaded information, produces a solution. The fuller the base and the better structured the data in it, the sooner and the more relevant the response. One can give here some examples of smart networks, or talk of creating an self-developing artificial intelligence, or name the quite real INTELLECT-S. One can raise one's professional level in different manners. One of such ways is to join a group of like-minded associates and pool one's experience and skills in a common base. You contribute your knowledge and get the team's experience at your disposal. It's not a declarative, but a real partnership in which every member is an important part of the common idea an knowledge base, that makes INTELLECT-S a cyber organism capable of solving many tasks even as we speak. That's precisely why I am joining this team".