INTELLECT-S's Scores Triple Win
Experts name INTELLECT-S the law firm of the year and recommend it as one of Russia's top litigation, IP and corporate firms
Britain's Global Law Experts and LEGAL AWARDS name INTELLECT-S Russia's law firm of the year; Russia's Pravo.Ru recommends the firm in three areas of practice
As the year draws to its close, it is hardly any coincidence that three surveys of Russia's legal services market were published by three separate organizations within two days. INTELLECT-S earned two international awards from Global Law Experts and Acquisition International Magazine and performed splendidly in the Pravo.Ru-300 survey.
INTELLECT-S is Russia's IP Firm of the Year — Acquisition International
Acquisition International announced its 2013 LEGAL AWARDS on December 16. The British corporate finance magazine confers its awards on individual practitioners and specialized and full-service firms in various specialty categories, based on a client poll and opinions of London-based experts who reviewed materials requested from short-listed nominees in support of their professional accomplishments.
The methodology of the survey is set out on the magazine's official website.
This year the magazine conferred awards on law firms in more than 115 countries, including eleven in the Russian Federation, and named INTELLECT-S the IP Law Firm of the Year – Russia.
In July 2013, Acquisition International Magazine rated INTELLECT-S the IP Boutique Law Firm of the Year – Russia.
Russia's IP Firm of the Year — Global Law Experts
Global Law Experts published its International Awards 2013 on December 17, 2013, nominating INTELLECT-S the Copyright Law Firm of the Year in Russia.
Global Law Experts is an international publisher recommending top law firms worldwide — one in each area of practice in one country only. Based on in-depth analysis of the legal market, Global Law Experts' ratings are recognized worldwide.
INTELLECT-S Managing Partner Evgeny Shestakov:
"Although long-awaited, this international recognition overwhelmed us: two authoritative British business publications conferred four awards on us in 2013. It might look easy to become Russia's IP firm of the year or get a favorable mention in the practice area section of a well-known handbook. Our team has in fact not only mentally grown, taken a shape organizationally and become bold enough to make a claim about ourselves. We studied international handbooks and rankings and saw a place for ourselves among Russia's legal industry leaders: the number of global projects we are handling, the cosmic level of our clients, our recognized authority in the profession, and the maturity of our internal marketing (we do not retain outside counsel) have propelled us to the international orbit like a cork out of a champaigne bottle. I want to congratulate all of us. INTELLECT-S is a lot more than just a marketing project; we do deserve recognition for our work and commitment to our labor of love."
INTELLECT-S Rates Top Notch in Pravo.Ru-300
The Internet portal Pravo.Ru and newspaper Vedomosti published their fourth annual joint survey of law firms, Pravo.Ru-300, on December 17, 2013.
Pravo.Ru-300 is Russia's so far only nationwide law firm survey taking account of the complexity and precedential value of cases handled by the firms. The survey focuses essentially on the firms' peer-perceived professionalism. Other Russian magazines (Sekret Firmy, Ekspert and Delovoi Kvartal) measure firms numerically, rating them by headcount, revenue and other statistics and financials."Making to the top lists of Pravo.Ru-300 is a badge of our professionalism, for this survey is based on independent experts' and the rivals' impartial assessments and opinions," says INTELLECT-S Development Director Anastasia Makhneva.
In 2013, Pravo.Ru and Vedomosti listed INTELLECT-S among Russia's top law firms in three areas: commercial litigation, intellectual property and corporate (including M&A).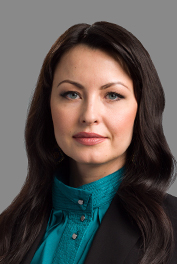 Anna Shumskaya
Former partner
"It is a brilliant result," says INTELLECT-S partner Anna Shumskaya who leads the firm's Novosibirsk office. "The firm improves its Pravo.Ru ratings from year to year. In 2010, when they conducted survey for the first time, we were merely on the general top lists. In 2011, we were on the list of Russia's best IP firms, and in 2012, we made it to the best commercial litigation firm's list. This year we retained the three previous achievements and made to the top as Russia's best corporate lawyers."
The last but not the least is the fact that Pravo.Ru again named INTELLECT-S among the best reputed firms, based on the legal market poll — for the third year running. INTELLECT-S was ranked the fifteenth among the top 35 firms selected by other entrants in their questionnaires for the highest professional reputation in the professional community.
"We are in fact one of only two regional firms that made to this list; the rest are all Moscow firms and the international heavyweights. This is undoubtedly a very important result for us, for it is the ultimate assessment of our performance by the profession known for its sharp critical views," said Anastasia Makhneva.
INTELLECT-S's nomination as Russia's second best IP firm — also voted by our rivals — is our special pride for just the same reason. The firm's partners are unanimous in their appreciation of the profession members' high opinion of their achievements.
The full rating and the assessment criteria are accessible on Pravo.Ru's website.