Anastasia
German
Senior Associate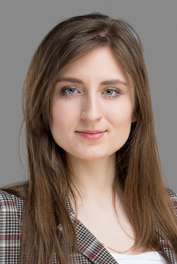 Practice areas
Intellectual property
Civil and arbitrazh litigation
Education
2017 - Faculty of law, Lomonosov Moscow State University
Professional activity
Anastasia specializes in disputes related to intellectual property objects, other areas of work in the field of intellectual property (contract work, registration of rights, legal due diligence, etc.).
In 2016, she joined INTELLECT's team as an intern. In 2020 became a senior associate.
Anastasia's most notable accomplishments include:
Successful defense of a client's interests in a domain dispute. There was a website discovered in the Internet whose domain differed by only one letter from the domain of an INTELLECT client; moreover, the products offered on the competitor's website were said to be analogous to the client's products. In the course of a long trial, it was successfully proven that the client's rights had been violated, with 5 million rubles recovered from the perpetrator. That amount of compensation is the maximum for the Russian court practice in domain disputes.
Relevant publications