Marina
Baykova
Senior Associate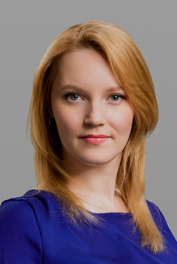 Practice areas
Support in bankruptcy proceedings
Civil and arbitrazh litigation
Professional activity
She began her legal career in 2011 as a specialist at the Arbitration Court of the Sverdlovsk Region, and in 2011 she was appointed as court session secretary. In December 2011, Marina was awarded the class rank of "3rd Class Lawyer".
Since December 2012, she worked as a lawyer in the rental department of a group of companies and was engaged in contract and claim work. In December 2013, she was transferred to the legal service of the group of companies, was engaged in providing support for bankruptcy procedures, representing the interests of business companies in arbitration courts and courts of general jurisdiction, contract work, registration of rights to real estate and support for real estate transactions, provided support to business companies during inspections carried out by administrative authorities.
In 2014, she joined INTELLECT's team as a lawyer in the legal disputes department. In 2017 became senior associate.
Relevant publications