Tatyana
Vagenleytner
Head of Practice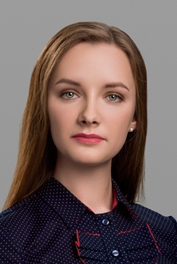 Practice areas
Patent law. Registration of patent rights for inventions, utility models, industrial designs, innovative developments. Conducting patent studies, preparing expert opinions and reports on the issues of patent law, etc. International patenting.
Education
In 2017, she graduated from the Law Department of the Russian Presidential Academy of National Economy and Public Administration (RANEPA).
In 2012, she graduated from the Physics and Technology Department of the Ural Federal University n.a. B.N. Yeltsin.
In 2008, she took an advanced training course "Project Management" at the "Higher School of Economics" Business School.
Professional activity
She started her professional career in the field of intellectual property in 2009 as a specialist dealing with a business company's intellectual property objects. She was engaged in patent search, preparation of applications, analysis of objects for "patent purity".
Since 2013, she has been working together with INTELLECT, specializing in the patenting of inventions, utility models, industrial designs. Represents clients' interests before Rospatent. Engages in patent search and advice.
In 2019, Tatyana received the status of a patent attorney of the Russian Federation and was appointed to the position of practice head at INTELLECT.
Relevant publications