Andrey
Tishkovsky
Head of department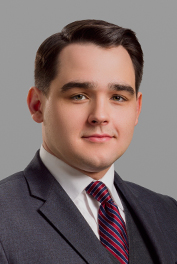 Practice areas
General civil law.
Civil and arbitration litigation and enforcement of judgments.
Education
2015 – "Legal Business in USA. Law Firm Management": Training for Partners and Top Executives of Law.
2011 – Ural State Law Academy. Faculty of master's training. Andrey took a master's degree of entrepreneurial law.
2009 – Ural State Law Academy. Faculty of bachelor's training.
Professional activity
Andrey's most impressive courtroom successes include:
avoidance by court of a public sale in a case where the his client, a bank borrower's guarantor, learned too late that the guaranteed debtor had defaulted on repayment of the loan, the bank foreclosed in court on the guarantor's security, enforced and sold the property at a price eight times below the market. Represented by Andrei Tishkovsky, the guarantor sued, had the sale avoided by court, and recovered its foreclosed retail space;
recovery of damages caused to the client by unlawful actions of the Federal Court Bailiff Service;
successful and complete repossession of over RUB30 million in realty of a default debtor in a case compounded by the debtor's active obstruction and the cumbersome mechanism of sale of repossessed property in the enforcement proceedings;
successful recovery of debts of a large building company totaling over RUB5 million in enforcement complicated by the debtor's attempts not to repay the debt when due, its founders' obstruction and official (administrative) pressure.
In 2018 Andrey was listed in Best Lawyers in Russia ranking.

Relevant publications