Inna
Kumanyova
Head of practice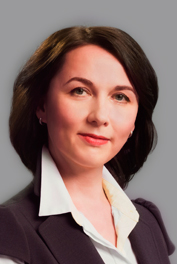 Practice areas
Legal safeguard of Real Estate, real legal relationships
Education
In 2001 graduated from Ural State Law Academy.
In 1991 graduated from Ural Institute Technology, Metallurgic faculty.
Professional activity
In 2006 became a leading lawyer in Law Firm Group INTELLECT-S. The field of her competences includes transactions and investment projects support, and also participation in judicial process, connecting with Real Estate and land plots.
Relevant publications