Anna
Ustyushenko
Partner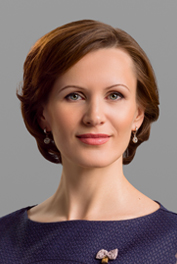 Practice areas
Labor law (including apprenticeship, industrial safety, internal regulation of employment, and employment of expatriate staff).
Civil and arbitrazh litigation.
Education
Professional achievements
Anna has been personally recommended by international rating Best Lawyers in two categories: Labor and Employment Law in 2017-2020, and Litigation in 2019-2020.
In 2017-2018, 2020 the Labor Law practice led by Anna was noted as one of Russia's best by Pravo 300.
Professional activity
During her spectacular career with INTELLECT, Anna
successfully represented clients in dozens of business disputes in arbitrazh courts;
drafted a large number of internal policies and regulations for a large city hospitality complex;
represented an employer in multiple cases for the recovery of its investment in its employees' training, compounded by multiple actions filed in different courts, a large number of defendants, scarcity of case law addressing the issue, and the need to obtain in evidence experts' learned opinions on labor law for authoritative interpretation of the rules of the existing labor code; and
skilful handling a labor dispute between a large mobile operator and its employee over the recovery of the cost of his training in the context of absence of any case law related to the issue.
Relevant publications