Roman
Rechkin
Senior partner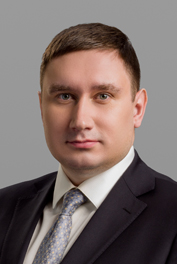 Practice areas
Arbitration proceedings.
Corporate disputes (disputes between shareholders, LLC participants, contesting the actions and decisions taken and made by the management bodies of any organizations, contesting major and related-party transactions).
Tax disputes (contesting any decisions, actions, or omission taken or committed by the tax authorities), as well as tax planning, including with the use of non-resident (in particular, offshore) companies.
Protection of intellectual property (copyright-related disputes, prevention of trademark right infringement, protection against unfair competition). Disputes related to real estate titles.
Education
2009 – "Legal Business in USA. Law Firm Management": Training for Partners and Top Executives of Law Firms. Lincoln Law School of San Jose, California, USA.
1998-2000 – Magistracy of the Ural Branch of Russian School of Private Law in Yekaterinburg. He obtained the master of private law's degree.
1998 - Ural State Law Academy.
Professional achievements
Roman has been personally recommended by:
Best Lawyers – Litigation, 2017-2019. In 2019 became Lawyer of the Year in the same practice. In 2020 was mentioned in Tax and Insolvency and Reorganization practices.
Chambers Europe – Dispute Resolution: Domestic Mid-Market in Russia, 2018-2019.
Pravo.ru-300 – Arbitration Proceedings, 2019.
Dispute Resolution Practice Group led by Roman is notes as one of Russia's best by:
Chambers Europe, Dispute Resolution: Domestic Mid-Market in Russia, 2017-2019.
Pravo.ru-300, Russia, Arbitration Proceedings, 2012-2020.
Professional activity
Roman, who joined INTELLECT in 2003, is an active courtroom practitioner. According to Russia's law database ConsultanPuls, Roman Rechkin has tried about a hundred cases that went up as far as cassation review. Over his career that began in 1998, he handled hundreds of cases in arbitrazh courts in the Urals, Siberia and Moscow. Roman uniquely combines a number of legal competencies: a solid courtroom background of successful trials, appeals and reviews, and extensive knowledge resulting from years of practice in the areas universally considered especially complex and intellectually challenging, such as tax, corporate, IP and real property disputes.
Many of Roman's cases created new precedents or became landmarks in case law including its long established areas.
Roman's advisory and courtroom accomplishments include:
successful out of court representation of a large distributor of office supplies in a tax dispute over a considerable unfounded tax assessment, with the tax inspectorate dropping its claims in the end;
successful defense of a company against its member holding a controlling 74% stake, who eventually lost control and the power to direct the company's management after a series of court actions;
skilful representation of a withdrawing member from a limited liability company which attempted to strip its real assets to avoid the distribution to the withdrawing member. Roman prevented the asset stripping by timely obtaining a court injunction order, and successfully repelled the company's attempts to have the injunction stayed and to oppose the public sale of the assets, with the company eventually paying off the withdrawing member;
currently representing a large developer in defense against banks' threats to repossess the client's assets, which can wreck the client's business. The ongoing litigation have kept the creditor banks at bay for over a year and a half while the client has continued its business, paying its debts one by one.
Relevant publications