Darya
Korovina
(Penyagina)
Senior Associate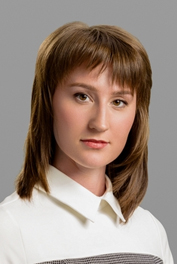 Practice areas
Civil and arbitrazh litigation.
Business law.
Corporate law.
Incorporation, corporate restructuring, M&As.
Licensing of the educational activities.
Appeal of decisions and proceedings of the Tax Service of Russia.
Education
2010 – Ural State Law Academy.
Professional activity
Darya joined INTELLECT-S in 2010 straight out of university. In 2014 she became a senior associate.
Relevant publications