Svetlana
Kalinina
Head of practice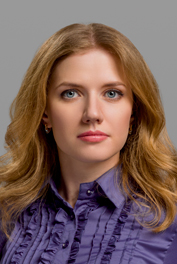 Practice areas
Сivil law.

Contracts.

General and commercial civil litigation.
Education
2013 – Svetlana graduated with a degree in law with distinction from the Higher School of Economics (HSE) Nizhny Novgorod Branch.

В2012 – Forensic Expert Witness & Testimony Management Skills and Evidence Management Skills in Civil Process: ABA Rule of Law Initiative's training courses.

2011- Cambridge International Legal English Certificate (ILEC C1).
Professional career
Svetlana provided pro bono legal assistance in the HSE student legal clinic since 2010 and became the clinic's director in 2012.
She joined INTELLECT-S as a trainee in August 2012, accepted the job offer as associate upon her internship, and was promoted senior associate in 2016. In 2017, she established and took the lead the firm's new HoReCa practice.
Svetlana provides ongoing legal support for 214-FZ co-financed building and development business, advises on leasing property, represents clients in landlord-tenant disputes, and counsels (in Russian and English) restaurateurs and caterers on matters of industry regulation and compliance, mortgages, consumer loans, and foreclosures.
Svetlana Kalinina's accomplishments include:
successful representation of a group of construction co-investors in a chain of suits in 2015 to compel the Russian Property Registry to recognize their ownership titles in a contested apartment house, which the Registry had initially refused to do;
representation of a contractor in a mediation process over a contract awarded by public tender. Svetlana dissuaded the parties from termination and suing for damages; as a result, the contract was salvaged and continued after long negotiations ended in a mutually acceptable compromise;
successful representation of bailors whose goods were damaged in a flooded warehouse in a year-long suit which ended in 2015 and included seven hearings and two forensic expert assessments to prove the warehouse owner's gross negligence;
assistance and successful representation in the trial court and on appeal in 2013, jointly with Sergey Lukyanov, of a service provider seeking to recover its fees which its customer had refused to pay for, despite irregularities in the contract and documentation.
Relevant publications