Filippov
Alexey
Head of practice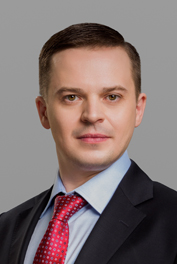 Practice area
s
General civil, business and corporate law
Commercial paper
Bankruptcy
Purchase of business, M&A and protection against hostile takeovers
Arbitrazh litigation
Administrative law and compliance
Tax
Education
2010 – "Legal Business in USA. Law Firm Management"

: Training for Partners and Top Executives of Law Firms. Lincoln Law School of San Jose, California, USA.

2002 – Extension Course "Book records. Taxation", Ural State University of Economy.
1995-2000 – Judicial and Pro-curatorial Faculty, Ural State Law Academy.
Professional activity
Alexey's top list of successes includes:
skilful guidance of a corporate client through the procedure of liquidation caused by large debts, and effective protection and representation of the debtor before the creditors, which included the preparation for voluntary bankruptcy, restructuring the debtor's assets, and initiation and management of the proceedings in bankruptcy until the company was removed from the register of legal entities;
successful management of the proceedings in bankruptcy of a corporate client initiated by a hostile creditor who sought to foreclose on the company's assets — a case which included staving off the creditor's attempt to raid the company using the bankruptcy scheme; winding up, dissolution and liquidation of the debtor; protecting the debtor against creditor claims; and rescue the estate in bankruptcy from seizing by the creditors. The case involved making a creditors' list; having the court-appointed receiver replaced; placing the company under receivership and subsequent proceedings in bankruptcy; collection of recoverable debts; forming and liquidating the estate; distribution of the proceeds among the creditors and having the dissolved debtor removed from the register of legal entities;
foreclosure on the shares in a large agricultural and processing company pledged as a security for its obligations under commercial paper issued for over RUB280, which shares were subsequently resold several times. The case included tracing the assets through multiple transfers and suing the ultimate holders of the pledged shares, representation of the client in court, recovery, getting the highest possible price at a public sale, purchase of the shares by an INTELLECT-S's subsidiary, ultimately resulting in the firm's becoming the sole shareholder in the agricultural and processing company; and
adding the firm client's claims arising under a surety for bill of exchange, to a list of creditors' claims against a bankrupt company and trying a series of ensuing legal actions compounded by the irregular execution of the surety as a separate, detached instrument, by contested authenticity of a signature and other, non-surety, forms of guarantees for the bill, with successful attainment of the objective of taking control of a large company bankruptcy proceedings, and the ultimate goal of taking control of the estate in bankruptcy.
Relevant publications