Anna
Shumskaya
Partner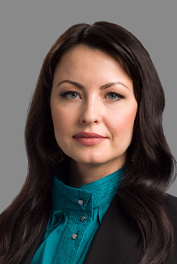 Practice areas
General civil law corporate.      
Labor law.
Civil and arbitrazh litigation.                                                         
Education
2014 

–

 "

Legal Business in USA. Law Firm Management"

: Training for Partners and Top Executives of Law Firms. Lincoln Law School of San Jose, California, USA.

2002-2005 

– 

Faculty "Management of organizations", National Institute named after Catherine the Great, extension department in Novosibirsk.
1996-2001 

–

Law Faculty, Siberian University of Consumer Cooperation, Novosibirsk.
Professional activity
Anna's most notable courtroom successes include:
ongoing legal support, in 2008-10, for a sanatorium in Belokurikha, staving off, for two years and a half, raider attempts to reallocate shareholdings in the owning company and to subsequently avoid the center's transactions in realty, in the Altai Territory Arbitrazh Court;
successful representation, as part of ongoing legal support, Novosibirsk region's largest agricultural producer in its action against an insurance company for over RUB3.5 million in insurance for of its pig farm and over 1,000 animals lost in fire;
successful ongoing representation, since 2010, of the Elton group of companies, the official dealer of LUKOIL, Gazprom and Rosneft in Western Siberia, Khakassia and Buryatia.
Relevant publications